The Daily Star
Roger Kettle and Andrew Christine left D.C Thomson in 1975 to go freelance and contributed cartoons for men's magazines under the "Randy" signature.
As well as stand-alone cartoons, they produced 'The Voyages of Olaf the Gang Bangor', 'The Legend of Louis Baloni' and 'Slug'.
Also, for about 20 weeks after leaving DC Thomson, Roger wrote and Andrew drew "Blubba and the Bear", for the children's comic 'Nutty'. Andrew also drew 'The Benny Hill Page' in 'Look-In' magazine.
The pair concluded that the best way to generate some regular income was to get into the comic strip market. Their real ambition was to get a daily cartoon strip into a national newspaper.
Roger remembers a weekend brain-storming session at his house:
Andrew said: "Right, let's try to think of something."
"I thought of Beau Peep straight away", said Roger, "It was the first thing I thought of and I wrote a strip -- the first one that's in Book 1 -- and gave it to Andrew. He laughed and said it was good, but he thought that it would never make a comic strip".
Roger recalls that he never really gave the title of the strip much thought.
"It was about the Foreign Legion... Beau Geste sprang to mind..."Beau Peep" seemed an easy step to make. It was really just a working title that sort of stuck. Andrew just didn't like the concept and it took over a year to convince him that it could work".
In 1977 they heard that a newspaper was looking for a cartoon strip. Roger says: "I kept on sending Andrew more Beau scripts and he started drawing them up. Beau Peep was rejected by that particular newspaper -- and 17 other publications, including The Sun and Woman's Own!
Beau's big break
Then, following almost two years of rejection, hard times, hard work, perseverance, much discussion and games of pool, the breakthrough came.
Roger and Andrew were given an initial six-month contract for the strip to appear in a brand new British newspaper called the 'Daily Star'.

The very first edition of the Daily Star - Thursday 2nd November 1978.
The Daily Star was the first national paper to be launched in Britain since the 'Daily Worker' in 1930. It was conceived by Express Newspapers in an attempt to win readers from the northern editions of the Daily Mirror and The Sun, as well as utilise the under-capacity of the Daily Express printing presses in Great Ancoats Street, Manchester.

The Daily Star was initially only printed in Manchester and circulation was confined to the North and Midlands. The original launch editor was Peter Grimsditch, and Derek Jameson was editor-in-chief.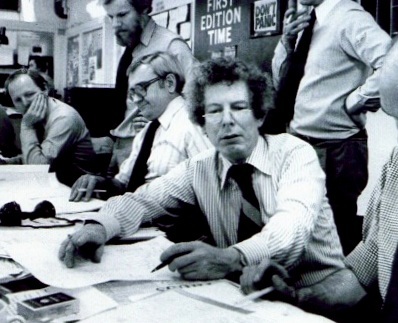 Derek Jameson planning the next edition with Lloyd Turner, seated to his right.
Roger remembers:
"Andrew and I were, as you can imagine, ecstatic. Our ambition to have a strip in a national newspaper had been realised and now the hard work was about to begin. We were now professional strip cartoonists!
After posting two weeks work to The Star, we awaited the response. After a few days, we got a letter from them that said something like "Thank you for the strips. By the way, the correct spelling is "legionnaire", not "legionairre"."


The very first Beau Peep strip was in the launch edition of the Star. Note Roger and Andrew were not credited on the strip.
By 1980 the Daily Star was circulating across the whole of Britain as it was printed simultaneously in the Daily Express building in Fleet Street, London (different news and sport editions were printed for each circulation area but every copy carried the feature pages sent by facsimile from Manchester).
Editorially it was a campaigning, Labour-supporting newspaper with serious news pages and columnists, yet well balanced with lighter, fun features. It quickly became very popular -- within just 6 years of its launch, circulation had risen to over 1.7 million copies a day.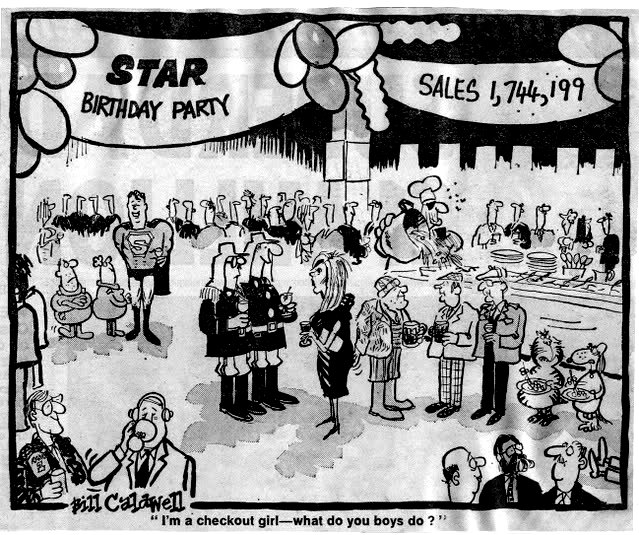 Bill Caldwell depicted Beau, Dennis and Egon in an editorial cartoon celebrating the paper's 6th birthday in November 1984.
It was the first national UK tabloid to introduce bingo, and have colour (albeit glossy pre-printed feature pages inserted into the main paper -- 'live' colour printing, as we know it today, didn't begin in the Star until mid 1989). The Daily Star was the first advertiser to appear on the side of London Black Taxi Cabs when rules were relaxed in 1982.
In 1985, Roger and Andrew even launched another strip in the Daily Star. It was called The Devils and ran for about 2 years.
---
The Falling Star
In July 1987, the Daily Star was ordered to pay out a record £500,000 in damages (plus £700,000 in costs) to Tory MP Jeffrey Archer. He had sued over allegations, made the previous November, that he had paid for the services of a prostitute. As a result the then Editor, Lloyd Turner, a great fan and promoter of Beau Peep was sacked.
Roger Remembers:
"Looking back, it's difficult to believe how much fuss was being made about the strip by The Star. The editor who sanctioned all this was a guy called Lloyd Turner, who was a great supporter of the strip and wanted Beau Peep to be almost synonymous with the paper.

I remember walking down Fleet Street one day and, outside every newsagent, was a poster advertising The Star with Beau Peep's face staring out at me. To get that kind of backing from an editor is VERY rare in a cartoonist's life and it's something I'll never forget. More often than not, cartoons in newspapers are tolerated rather than promoted."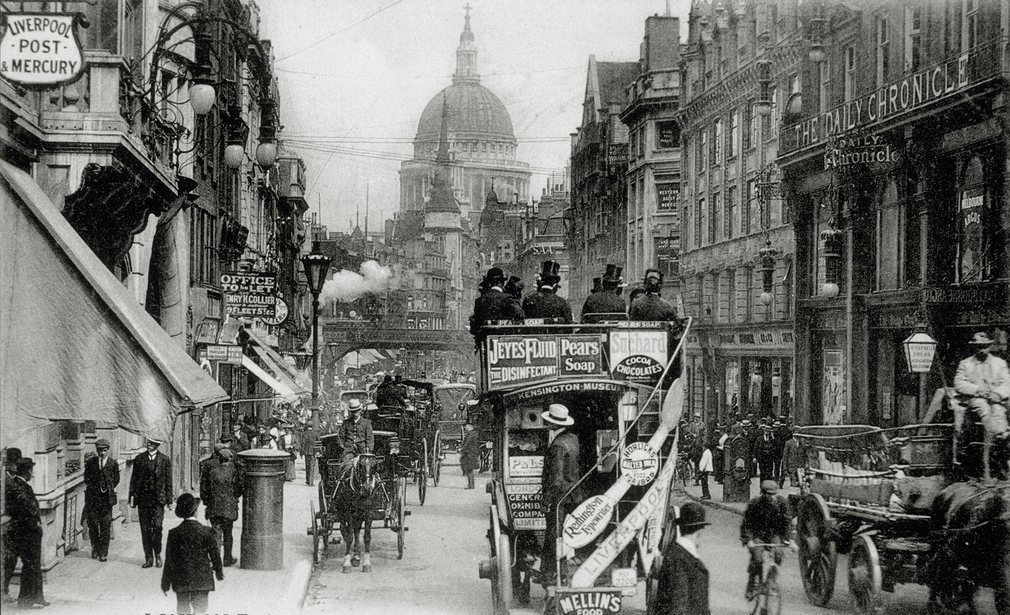 Roger Kettle and Andrew Christine seen here, bottom left, walking along Fleet Street on their way to a meeting with the Editor.

Roger continued:
"Lloyd's career at The Star was terminated shortly before that Stringfellows do. He had printed a story about Jeffrey Archer's visits to a prostitute and further ramifications -- a story all Fleet Street was aware of but too nervous to publish. After a truly ludicrous court case, The Star was sued by Archer and Lloyd was sacked. Of course, it emerged later that the story was true -- Archer was jailed -- but all too late for Lloyd.


It was a sad end to The Star career of a great tabloid editor."


Lloyd Turner (1938-1996)

Two months later, following board room changes and a new Editor, Michael Gabbert, the Daily Star merged with the notorious 'Sunday Sport' paper (we are reluctant to call it a newspaper) and was re-titled "Daily Star Sport".
It very quickly went extremely 'down-market' (some commentators at the time called it 'pornographic'). At least 10 journalists resigned and readers deserted the new-look paper in their droves -- circulation plummeted by more than 500,000 copies (almost half its daily sale). It also lost lucrative advertising contracts from supermarkets who did not wish to associate themselves with the paper.
It was rather surprising that Beau Peep still had a home in the Star of that period. Even more surprising was that Mssrs. Kettle and Christine didn't feel the need to revert back to their 'Randy' by-line, to cover the embarrassment of what sort of 'newspaper' their cartoon was appearing in.
A few years later, in August 1989, the UK Press Gazette ran an article about strip cartoons:
"...although you might think that an enthusiasm for cartoons is an American trait, there is plenty of evidence to suggest that UK readers are also affected.
John Allard, head of cartoons at Mirror Group Newspapers, said that when the Daily Star went down-market, a lot of readers who had defected to the Daily Mirror used to ring up and say: "Look, the Mirror's really great but couldn't you run the Beau Peep cartoon?".
The Mirror couldn't, but it did manage to get Beau Peep creators Roger Kettle and Andrew Christine to produce a new strip for the Mirror called 'A Man Called Horace'."

Back to September 1987, and in a poll of 2,500 readers on the 'new-look Star', Beau Peep was voted a favourite part of the paper:
First came 'Star Stunnas' (their name for topless girls, of which there were pages and pages), followed by 'Star Sport', and then 'Star News' (of which there were very few pages).
The Star reported that "No.4 in the popularity stakes is our zany cartoon character Beau Peep."
The poll also recorded that Beau was the "least-hated" of all the features in the whole of the paper -- praise indeed! -- 1% of respondents said they "loathe it", while 24% said they "love it".
Barely six weeks after its launch, the 'Daily Star Sport' was put out of its misery -- a new editor was appointed and the title reverted back to the 'Daily Star'. The reputation of the paper was damaged so much in that short episode, and as well as subsequent series under-investment, that it has never really recovered.
A still from a Daily Star television advert from the late 1980s starring footballer Bruce Grobbelaar, with a glimpse of Beau Peep along the bottom of the back page.
As Roger has pointed out, the Archer story was later proven to be true -- Lloyd Turner and the Daily Star were completely vindicated. In 2001 Archer was imprisoned for perjury, and Express Newspapers issued a writ to recover the original £500,000 libel damages paid out to Archer, plus £1.3 million in legal costs and £400,000 in interest.
---
The End?


A sign of things to come? A strip featuring 'Headline' Harry from 03-11-97
In October 1997 Roger and Andrew received a letter from the Star saying that Beau was to be dropped at the end of that year. Roger remembers replying to that letter:
"I said that I'd find it difficult to write cheery Christmas strips, knowing that it was coming to an end. Given that we'd been with the paper since it began, 19 years previously, I wondered if they could just pay us two months wages and stop the strip immediately. I suggested this payment would be a sort of "thank you". Back came the reply that we were welcome to stop immediately, but no payment would be made. So we soldiered on".
And so, 19 years and around 6,000 Beau Peep strips later, the last one appeared on 27th December 1997:

---
A reprieve
Roger and Andrew were quickly signed up by The Sunday People newspaper (owned by The Mirror Group), and 51 x 2-bar strips ran in their colour magazine supplement from March 1998 through to March 1999.
---
Home again!

On 26th March 1999, the Daily Star ran a full page article headlined "Peep Peep! Beau's Back". Mike Ward, the paper's TV critic, 'interviewed' Beau and Dennis and other characters -- but bizarrely did not mention Mr Kettle and Mr Christine at all.
Well, they are only the creators.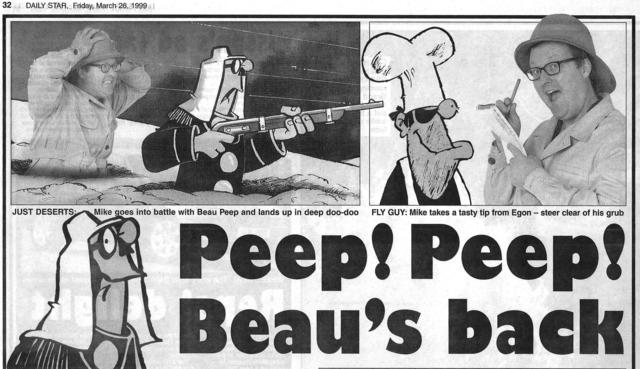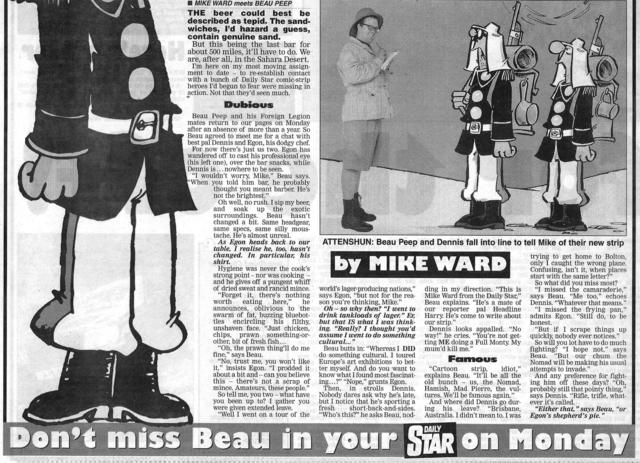 The following Monday, 29th March 1999, Beau Peep was back in the Star:




Roger remembers when the Star arrived at his house that day:
"My son, who was nine at the time, looked at the cover and said "That's not true, is it?"
I wasn't sure what he meant and asked "What isn't true?"
"That Beau Peep is Britain's funniest comic strip?", he earnestly replied".
Back in 1981, Roger was asked if he could see himself writing Beau Peep 10 years from now. He replied:
"I would like to think that it is possible, although I don't know if it has the scope to last for that length of time. I hope it has".
More recently, he added:
"Every so often, it strikes me how long this silly strip has been going. Back in 1978, when it was first published, Andrew and I were given a six-month contract and, to be honest, we had pretty much accepted that it wouldn't last any longer. We had achieved our ambition of getting a strip into a national newspaper so anything else was regarded as a bonus. Not for a second did either of us reckon on the longevity of this nonsense and I had no idea that it would help pay for my journey through life".
---
The End.....again.

In November 2016, Roger Kettle posted this on the Beau Peep website:

About three weeks ago, Andrew and I were informed that Beau Peep would be cut from The Star.

The news arrived just over a year after The Mirror dropped our Horace strip and the reasons given are exactly the same. The newspaper industry is in deep financial trouble and anything that isn't considered "essential" is being sacrificed. Rather than the editorial staff, the money men are behind all these decisions and, to be honest, I wasn't surprised when the letter arrived.

I'd be lying if I said I wasn't sad -- the strip has been the dominant factor in my life. I was 24 years old when I came up with the idea and 27 years old when it was first published. If you'd told me then that it would remain in print until I was a 65 year old pensioner, I'd never have believed you. I am HUGELY fortunate and HUGELY grateful for the career I've had. In total, my Horace and Beau Peep strips have lasted for 64 years and, when you throw in my 11 years of writing Andy Capp, I simply have no grounds for even the mildest of complaints.

I must admit that I find my current situation extremely weird. For a long, long time, my life has been consumed with thinking up daft ideas for daft, little cartoon characters. Overnight, this has come to an end and it's been more than a little difficult to adjust.

As I think I've mentioned, I've been writing a book for some time so this will allow me to get my head down and finish the damn thing. I'd also like to write some stuff for football magazines. On top of that, me and Tarks will, hopefully, continue to produce material for an American website.

I'm not sure of the exact date but I'm led to believe that Beau Peep will end at the beginning of December. Of course, something might happen and those daft, little cartoon characters may reappear somewhere else -- but I doubt it.

Thank you a million times for your support. I will miss that silly bugger.

Roger.

P.S. If my book ever gets published, don't worry. I will plug the hell out of it on here
And so, after 36 years and an incredible 11,270 Beau Peep strips later, the last one appeared on Friday 2nd December 2016:

There was no conclusion to that week's series of strips, no mention in the paper and no responses to letters and emails to the Star. Roger himself later admitted that he was "...disappointed, although not surprised, to receive no word of thanks for 38 years of work from the editor at The Star or, indeed, anyone else there. The only letter we got was a pretty bland notification of Beau Peep being dropped..."