Beau Geste - parodies
The Beau Geste tale has been parodied by many over the years on screen, notably in 1931 by Laurel and Hardy in "Beau Chumps" (the original American title is "Beau Hunks"):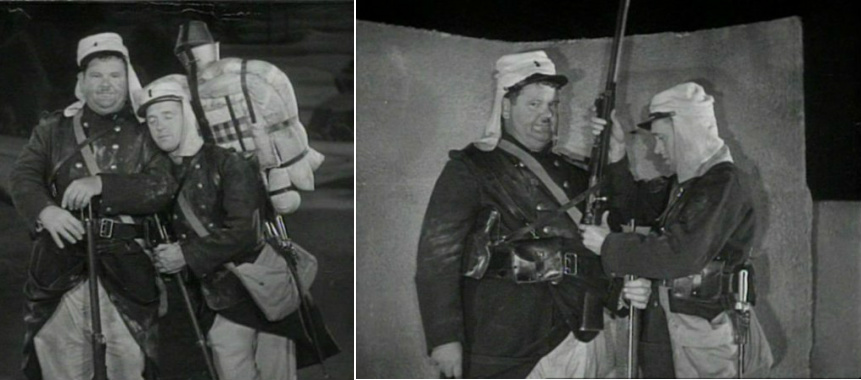 ...and again in 1939, in their much weaker 'The Flying Deuces':

Roger was asked about the text on the back of Book 2 where it says Beau Peep "...has taken over from where Laurel and Hardy left off...", and whether it influenced him at all when he watched them?
"Ah, yes....1931 in the cinema....I had come to love the Talkies....I can honestly say that, when I first came up with Beau Peep, I had no knowledge of the Laurel and Hardy film. I was never a huge fan, certainly not to the extent of knowing all their movies. After the strip appeared, it was then mentioned to me on several occasions, but I've still never seen "Beau Chumps". I did, of course see
"Beau Geste"
, which was my basic inspiration -- a simple spoof on an established heroic character."
In 1967, 'Follow That Camel' was released – a 'Carry On' film with Jim Dale playing Bertram Oliphant "Bo" West, and guest star Phil Silvers as Sergeant Ernie Knocker:


'The Last Remake of Beau Geste' starring, and directed by, Marty Feldman was released in 1977:

Morecambe and Wise, with Keith Michell, in a play what Ernie wrote, in September 1971, and still from a Thames Television sketch from May 1982: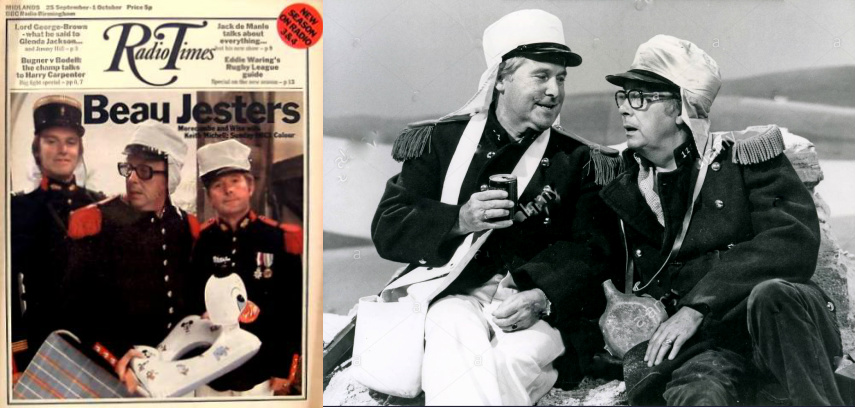 Roger remembers:
"I recall getting a letter from a reader in the early days, asking if Beau and Dennis were based on Morecambe and Wise!"
'Little Beau Porky' - a Looney Tunes cartoon starring Porky Pig, from 1936:

'Little Beau Pepe' - a Looney Tunes cartoon starring Pepe Le Pew, from 1952: