President Clinton
By Roger Kettle
It was an evening in late May 1995. Around midnight, I got back to my room at the Northern Hotel in Billings and picked up the phone. I was desperate to talk to my wife, Mary, who was back home in Scotland, where it was 7 in the morning. The conversation went roughly as follows:
Mary: Hello?
Me: It's me. You'll never guess what's happened. I've just met Bill Clinton!
Mary: What?
Me: I've just met Bill Clinton! The president of the United States! I shook his hand and talked to him!
Mary: What time is it with you?
Me: Um … just after midnight.
Mary: Have you been drinking?
Me: Well, yes, but that's not the point! I've just met Bill Clinton! I challenged him to a game of golf next time he's in Scotland but, well, that's not the point either. I've just met the president of the United States!

This (rather expensive) phone call was to go on for several more minutes before I convinced my wife that I had, indeed, just met the president of the United States. I don't blame Mary for being skeptical. It was an extremely unlikely tale but, then again, my visits to Montana have been steeped in the unlikely.
As a kid growing up in Scotland, I was fascinated with the Old West. I made great gun noises, the envy of my friends, which ranged from a guttural explosion in the back of my throat to a high-pitched "dinny-ya" which was supposed to replicate the sound of a bullet ricocheting off a rock.
Anyway, like most boys of my generation, I was captivated by those evocative Western names — Billy the Kid, Wild Bill Hickok, Buffalo Bill, Jesse James, Sitting Bull, Crazy Horse, George Armstrong Custer. For some reason, the last three names on that list, in particular, gripped my imagination. What happened at the Little Bighorn River in 1876 became the focus of my fascination — and my fascination was centered on Crazy Horse. I was a 10-year-old Scottish Highland kid and my hero was an Oglala Sioux called Crazy Horse. I had an uneasy childhood. But it was to lead me to Montana.
Early in 1993, I decided that I was going to make the 10,000-mile round trip to the Little Bighorn. I knew that the battle had taken place in Montana and I had a vague idea that Montana might be somewhere towards the left-hand side of the North American continent but, quite frankly, I couldn't have pointed to it on a map. As for the logistics of actually getting there, I had no idea. Enter Alan Gray. He was a friend of mine from the same Scottish village where I lived. He was a travel agent.
Unbelievably, he was as fascinated with the Battle of the Little Bighorn as I was. It was sorted. Alan and I would head for Montana in October and fulfill our boyhood dreams of standing on the same ground as Custer, Crazy Horse and Sitting Bull. Our wives were extremely understanding and accepted that we were going on a once-in-a-lifetime trip. (At this stage, I feel obliged to point out that just last week, Alan and I flew into Billings for the sixth time. I can also confirm that flowers and jewelry can be very expensive).
I distinctly remember arriving at the reception desk of the Northern Hotel at 10 p.m. on that Saturday evening in October 1993. We had been traveling for nearly 24 hours and when the receptionist asked if we would like an alarm call, I answered "Yes — Thursday."
That initial exhaustion soon passed and we had a glorious week. Our trip to the Little Bighorn Battlefield went way beyond expectation. We had pre-booked a guided tour with Jim Court, an acknowledged expert on the battle and a truly wonderful raconteur, and it became a day I will never forget. Jim took us to the "Crow's Nest," a high point in the Wolf Mountains where Custer and his scouts first spotted the huge Sioux and Cheyenne village. To look across the Little Bighorn Valley from that pine-covered bluff, virtually unchanged since 1876, was an incredible experience. To wander around those desolate battlefield slopes was equally incredible. In many cases, the pursuit and realisation of a childhood dream can end in bitter disappointment, but that was never going to be the case in this situation. My love affair with Montana had begun.
That night, after our tour of the battlefield, we headed back to Billings and, on Jim Court's recommendation, ended up in Casey's Golden Pheasant. (Sadly, the bar is no longer around.) The owners, Pat and Angie Cormier, could not have been more welcoming and we made many friends, clinked glasses several times and had a splendid evening. The mild headache of the following morning was more than worth it. Looking back, I think that the genuine warmth shown to us that evening — and the next couple of nights before Alan and I had to fly back to Scotland — was the determining factor which made our subsequent visits inevitable. We simply HAD to come back.
As I mentioned earlier, Alan and I had agreed with our wives that our trip to Montana would be a once-in-a-lifetime, absolutely special, never-to-be-repeated experience. Two years later, in May 1995, we touched down at Billings airport. Our second trip would turn out to be even more special.
In Scotland, we are blessed with some truly spectacular scenery. We have snow-covered mountains, rugged coastlines and jaw-droppingly beautiful lochs. (In one of the latter, we even have some plesiosaurs swimming around, but that's another story). Having said that, nothing prepared me for the Beartooth Highway. It is beyond description. "Awesome" is an over-used word these days on both sides of the Atlantic. (For example, regardless of how well a cupcake is made, it is not "awesome.") The Beartooth Highway is literally awesome. I was struck with awe. It is, quite simply, the most beautiful and stunning place I have ever seen in my life.
OK, back to the story. Alan and I had re-visited the Little Bighorn with Jim Court, an even more enlightening trip, and had been blown away by the splendor of the Beartooth Highway and Yellowstone National Park.
Back to Billings. Now, we were aware that Bill Clinton, president of the United States, was in town that night. Alan and I decided that it would be a really nice story for our families back in Scotland if we managed to catch a glimpse of the presidential cavalcade as it headed toward what is now the Crowne Plaza Hotel. We set off for Jake's Bar, just across the road from the hotel, for a bite to eat and a couple of beers — it was the perfect viewpoint.
A couple of hours passed and there was still no sign of The Most Powerful Man On Earth. The crowds, who had gathered on the sidewalks around the hotel, began to dwindle. Now, as it happened, Alan and I had been having a fine time. Scots and Montanans have little problem in making friends in a bar and we were now best buddies with a certain Patrick Dawson, a Billings-based journalist working with, amongst many others, Time magazine. At around 11 p.m., Pat (I told you we were now best buddies) returned from making a phone call and announced that the president was still in Walkers Grill, a nearby restaurant.
"Let's go," he said. There were probably 30 or 40 people standing outside Walkers when the three of us arrived. I had assumed that we would join these people and wait for the president to emerge, but Pat had different ideas. "It's a bar and it's open. We'll go in for a drink."
Just inside the door, I recall two rather large security/Secret Service gentlemen asking us our business. With a disarming smile, Pat announced that he was a close friend of the owner and that he was simply dropping in for a drink with some Scottish tourists. Well, it worked and two minutes later, we were sitting at an empty bar, nursing a beer. I'm sure many of you will remember the old Walkers Grill before it moved to its current location. It was pretty much open-plan and the kitchen could be seen from the bar.
We had barely taken our first sip of beer, when the president and his entourage entered the kitchen to thank the staff for his meal.
At a rough guess, we were sitting 20 yards away. I'm pretty sure my mouth was open. After shaking hands with the kitchen staff, the president turned to face the three of us sitting at the bar and waved. Now, never having been in a situation like this before, I can't say I'm fully aware of the protocol involved but I'm guessing it shouldn't include muttering "**** me!" under your breath.
I managed to wave back just as things were becoming even more surreal. Bill Clinton, The Most Powerful Man On Earth, was walking towards us, holding out his hand. I remember hearing Pat saying something like "Mr. President, this is Alan and Roger — visitors from Scotland," before completing the offered handshake.
After learning that we lived 20 minutes from the first tee at St. Andrews, Bill (we were also best buddies by now) confessed that he had never managed to play golf there. Of course, this is the moment I challenged him to a game next time he was in Scotland and, when he told me his handicap, I insisted that I could "take him, no problem." Thankfully, there was laughter all round and we parted on the best of terms. He still hasn't phoned, though.
So that was it. A quite astonishing evening for two guys from a village in Scotland, leading to that midnight phone call to my wife back home. I can fully understand her reluctance to believe what had happened. I barely believe it myself.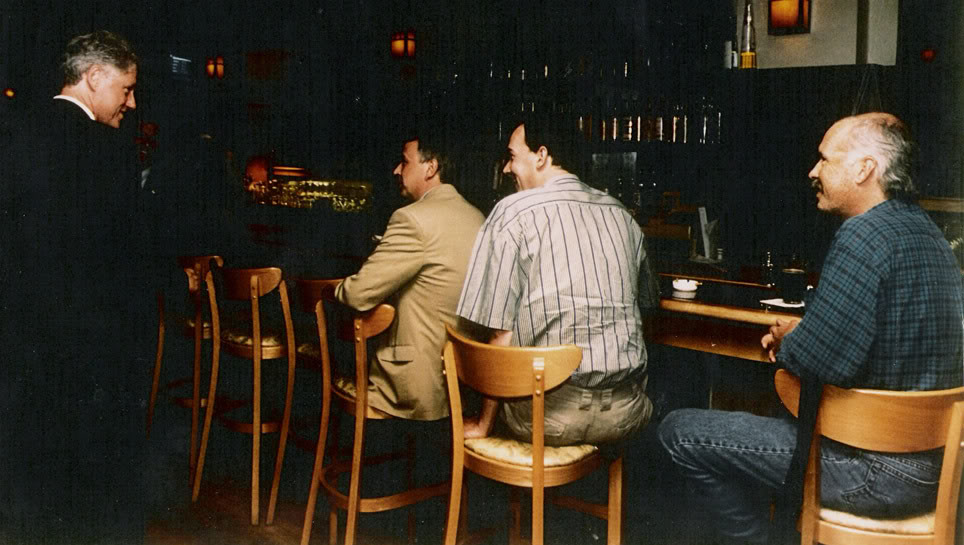 Peep fan President Clinton (left) chatting to Roger Kettle (second left).
Let me close with a story which sums up Montana for me. On the Friday evening, two days after we'd met the president, a large party had booked into the Northern Hotel for a wedding the following day. Within an hour of mingling with the guests in the bar, Alan and I had been invited to the wedding. The groom's brother had insisted on buying us drinks and had asked about our trip. Of course, the whole Clinton thing was the main feature, but I happened to mention that I would really like to see a rattlesnake — not up close, you understand, but at a comfortable distance.
Nothing was said and Alan and I continued to mingle for the next hour or so until we decided to call it a night. As we were about to leave, the groom's brother grabbed us and apologised. Earlier that evening, he'd driven down from the airport and had seen a dead rattlesnake lying by the road. He'd just driven up there again, trying to find it so that he could bring it back to show me!
So that's my definition of a Montanan — someone who will leave his brother's wedding party to try to find a dead rattlesnake in the dark to show a couple of Scottish tourists.
That's pretty special.
---
With acknowledgements to http://lastbestnews.com/site/2014/09/lay-of-the-land-a-scotsman-walks-into-a-bar/