Questions to Roger Kettle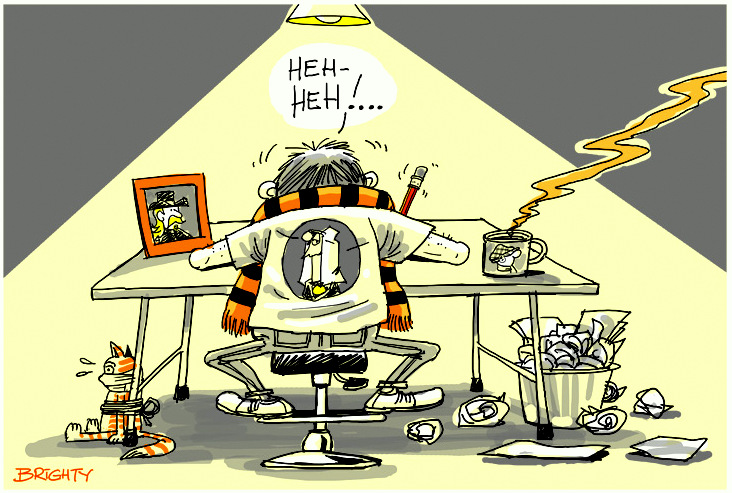 Roger at work, as depicted by Steve Bright in 2010
Roger Kettle is often asked how about the workings behind the strips. He absolutely LOVES analysing his own work, so please submit your questions on a postcard to the usual address. Here are a few of his responses.
How did you deal with the groupies when you first started?
"I had a crack team of ex-S.A.S. bodyguards and was in constant touch with The White House security office regarding the latest in protective technology. When I popped out to the shops, a regiment of Ghurkas yomped alongside me. Andrew had his mum."
Have you ever thought of doing any Beau Peep spin-offs?
"Many years ago, there was talk of an Egon book with recipes and strips. Nigella Lawson slapped in an injunction because it was obviously infringing on her cookery/sex symbol monopoly."
Is it correct that we hear you're a bit of a technophile?

"I don't think there's the slightest doubt that I'm the least technically-minded contributor on this site. I sketch out every single strip I write, by pen, on a drawing pad. I fax the ideas to Andrew Christine who then emails the finished work to The Star. As someone who's never driven a car or owned a mobile phone, I can't see myself ever changing. I am not proud of this -- it's just, sadly, the way I am.
However, I completely understand that, had I been starting out today, this attitude would get me nowhere. I'm lazy. If I can get someone else to handle the technical side of things, then that's fine by me. Maybe it's because that my contribution to cartooning is only in the writing bit -- something that CAN'T be done by computer.
Nah. It's because I'm lazy and can't be arsed to learn."

"I went into one of those computer places recently to buy my daughter an I-pod thingie. The salesman launched into a pitch about capacities and G.Bs and asked me what kind I wanted. "Um....pink", I answered."


"Because of built-in obsolescence, my old laptop died. It was 5 years old. Dear Lord, I still wear jumpers 8 times as old as that.
The new one that I'm currently typing on is very annoying. (Laptop, not jumper). The wee arrow wotsit tends to jump around so I end up clicking on things that I hadn't intended to.
Thankfully, my son was visiting at the time and was around to take control of the transition. At one stage, he was starting up my new laptop, re-installing previous data, talking to me and, via his phone, working out the local possibilities of getting paid for having the old set-up collected.
While he was doing all this, I looked on with my mouth open and sort of drooled."
Have you had any offers from Hollywood?
"Do you REALLY think if I'd had offers from Hollywood it wouldn't be plastered all over this site?"
Any 'top tips'?
I'm about to give away a trade secret (this is akin to a magician explaining how a trick is done).
Writing about animals in a comic strip is much easier than writing about humans. You get away with murder. Let me explain...
Fred Basset (the cartoon strip dog) is watching his master play chess with the local vicar. In the final frame, he thinks " He should have moved Bishop to King four". A dog thinking this is (mildly) funny. A human thinking this is ... well ... not funny at all. In short, this is a cheap and easy way to get a laugh.
The fact that, in Beau Peep, I feature a camel and two vultures and, in Horace, I feature a snake and a bear, is purely coincidental.
I used to do a little test when I wrote scripts featuring animals. Would this be funny if a human was saying this line?
This is why the snake has virtually disappeared from Horace. In my opinion, it had ceased to work. I've explained before about the original concept of introducing the snake. It was, simply, a way of adding visual variety and, in a Western strip, what better creature than a rattlesnake?
I then realised that every cartoon snake I'd ever seen ssssspoke like thisssss so I thought it might be amusing to have a snake who couldn't pronounce the letter "s". While I think it initially worked, it was becoming increasingly contrived.
Of the animals that I write about, I think the vultures in Beau Peep work best. This is a basic father/son thing where, I hope, the dialogue stands up on its own. Well, that's the aim, anyway.

Who is the Most Famous Person To Own Your Original artwork?
"Both the Queen and the Pope have Beau Peep originals in their toilets. As do Madonna, Bob Dylan and the bass guitarist from Lieutenant Pigeon. After a furious auction war, which reached seven figures, Oprah outbid Prince Charles for an Andy Capp I'd written about marriage guidance."

Stephen Johnson, bassist of Lieutenant Pigeon, top left.

Lieutenant Pigeon achieved two UK hits: "Mouldy Old Dough", written by Woodward with Fletcher, which reached number one in 1972, followed by "Desperate Dan" (number 17 in 1973). Both tracks were largely instrumental, with the titles providing virtually the only lyrics. "Mouldy Old Dough" -- the title being an adaptation of the 1920s jazz phrase, "vo-de-o-do" -- became the second biggest selling UK single of the year, beaten only by Harry Nilsson's "Without You".
The other band members were Nigel Fletcher (drums), Robert Woodward (keyboards and tin whistle) and Hilda Woodward (piano).
Lieutenant Pigeon scored a further hit, in the autumn of 1974, when they reached Number 3 in the Australian charts with a cover version of "I'll Take You Home Again, Kathleen".
They stopped gigging in 1978, although Johnson re-formed the band in the 1980s, touring to notable success in Scandinavia. The line-up went through a number of changes and by the late 1980s Stephen Johnson was the only original member of the live band. Johnson subsequently set up a documentary video production company.
Hilda Woodward (Robert's mother) died, aged 85, on 22 February 1999. She was aged 60 at the time of "Mouldy Old Dough" topping the charts, which made her one of the oldest female artist to feature on a UK number one single.
The Pigeon name remains active with former members working together in the production of backing beds and jingles, maintaining a website and releasing occasional new material. Their 2001 release "Opus 400" is a 35-minute single composed of separate sections. For the past ten years now Woodward and Fletcher have continued to produce music.

Another Beau Peep fan is the lead guitarist of a lesser-known rock group called 'Queen' -- Brian May CBE. He and Andrew Christine used to exchange the latest Queen albums for the latest Beau Peep books.
---
Roger wrote the following on 2nd November 2012:
Beau Peep first appeared in the Daily Star 34 years ago today. The run has not been continuous as the strip was dropped by the paper for about 15 months in the late nineties, before being brought back. During our absence, we appeared as a weekly in The People.
I'm trying to work out how many strips Andrew and I have produced. Let's see ... that's roughly 32 and a half years at 313 a year (six days a week) ... 15 months of Sunday strips ... a few in the Sunday Express ... that comes exactly to ... far too many!
Many thanks to all of you who have followed Beau Peep faithfully, unfaithfully or even smiled at a single cartoon.
As the Americans say: preciate it!