Spot Beau and win £50
In August 1927, the now-defunct Westminster Gazette created a fictional character called 'Lobby Lud' (the name derived from the paper's telegram address, "Lobby, Ludgate", in Ludgate Circus, London). The character was used in readers' prize competitions during the summer period when the paper published his photograph and description, and announced that he would be wandering around a particular location that day.
Readers would rush off to try and find him and anyone carrying the newspaper could challenge Lobby Lud with the phrase "You are Mister Lobby Lud and I claim the Westminster Gazette prize". The prize was £5 (about £250 in today's money) and if Lobby Lud was not found on a particular day, it would roll-over to the next day.
It was reported that many innocent look-a-likes were accosted in the street with people demanding the prize, and subjected to abuse when they denied being the mystery man!
Through the years, other newspapers ran similar schemes with characters such as 'Percy Pickles' and the 'Guineas Man'. The Daily Mirror had 'Chalky White' (Andy's mate from the Andy Capp strip), who would wander around various British seaside resorts waiting to be recognised by Mirror readers (an obscured photo of him having been published in that day's paper).
Anyone who recognised him would have to say a phrase along the lines of "To my delight, it's Chalky White" to win £5. The most well-known phrase, "You are (name) and I claim my five pounds", apparently dates from a Daily Mail version from after World War Two.
The Daily Star ran a "Spot Beau and win £50" promotion over four weeks in the summer of 1991, which was trailed on the front page:

They used two 'Beau Peeps' -- every day one would be in a northern seaside resort, and the other one in the south.
The Star seemingly just used the Beau character as a hook -- in order not to make it too easy, the men to be tracked down were not actually dressed as Beau Peep!

The rules stated:
"Keep an eye out for Daily Star cartoon favourite Beau Peep while you're playing on the beach. Spot him and it could really make your day! For the thought of a break from the Commandant (sic) has made him so demob happy that he's showering money on his fellow holidaymakers.
But you'll have to keep your eyes open. Beau has left his uniform and kepi in the desert -- he has smartened himself up for his seaside break and will be strolling about wearing civvies.
He might be sitting in a deckchair, standing in the queue in the fish and chip shop, buying a postcard or even sneaking a quick pint."
The resorts visited were:
Mon 12/08/91 - Blackpool and Margate
Tue 13/08/91 - Cleethorpes and Eastbourne
Wed 14/08/91 - Sheerness and Aberystwyth
Thu 15/08/91 - Ramsgate and Morecambe
Fri 16/08/91 - Brighton and Skegness
Sat 17/08/91 - Hastings and Southport

Mon 19/08/91 - Minehead and South Shields
Tue 20/08/91 - Rhyl and Bournemouth
Wed 21/08/91 - Colwyn Bay and Newquay
Thu 22/08/91 - Blackpool and Torquay
Fri 23/08/91 - Ayr and Eastbourne
Sat 24/08/91 - Edinburgh and Plymouth

Mon 26/08/91 - Colwyn Bay and Barry Island
Tue 27/08/91 - Cleethorpes and Porthcawl
Wed 28/08/91 - information not yet known
Thu 29/08/91 - Whitby and Tenby
Fri 30/08/91 - Weston-super-Mare and Morecambe
Sat 31/08/91 - Blackpool and Weymouth

Mon 01/09/91 - Colwyn Bay and Brighton
Tue 02/09/91 - information not yet known
Wed 03/09/91 - information not yet known
Thu 04/09/91 - information not yet known
Fri 05/09/91 - information not yet known
Sat 06/09/91 - information not yet known

A 'calling card' poster was left in each resort: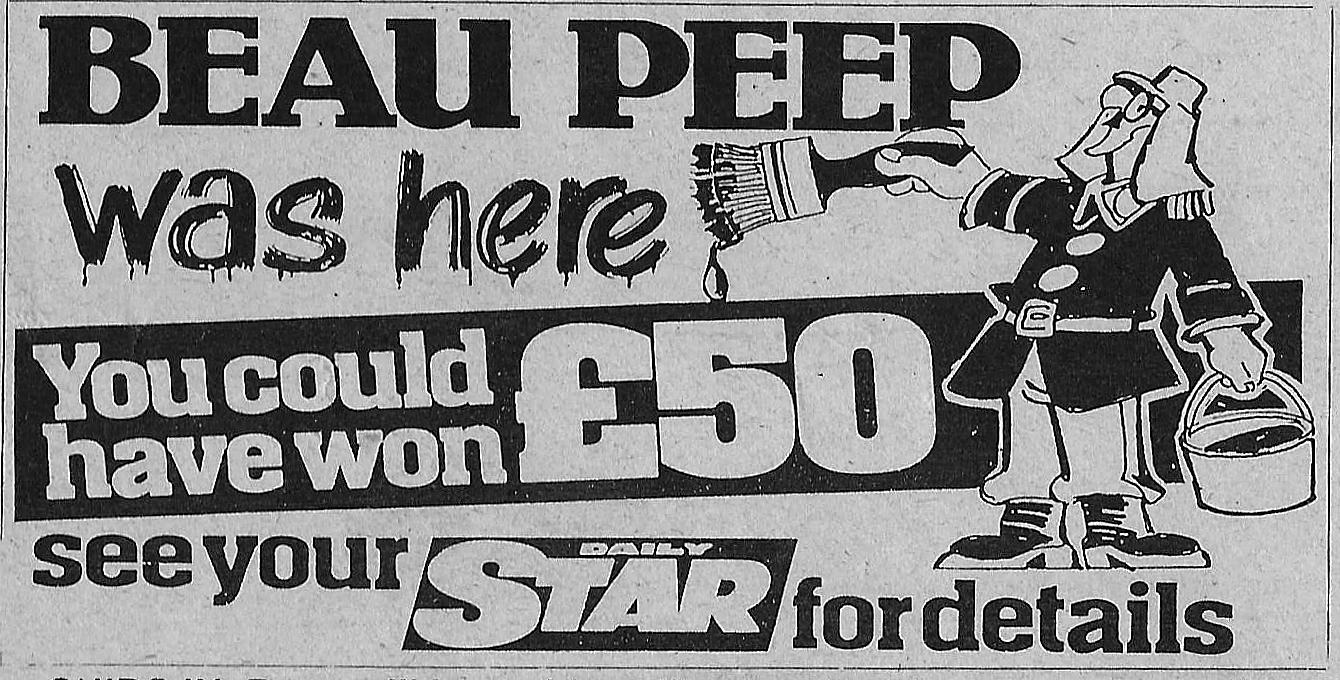 Some Daily Star trails - the first with an unusual spelling of 'Beau':